Another shocking find near Rockingham Park came in the form of a European MEW GULL this morning! The bird was seen with about 60 Ring-billed Gulls roosting in the parking lot at Sears. Sometimes I'll take this "scenic" route into work for gulls, but never did I expect this bird. As I drove by Sears on Rt. 38 I noticed a large mass of gulls resting in the parking lot and noticed a bright first-cycle Iceland Gull in the middle which prompted me to pull in and take some photos.
As I photographed the Iceland and looked around for the other adult that hangs there I randomly decided to pick through the Ring-billed Gulls — something I literally never do. Perhaps it was the recent report of a Mew in Mass that sparked my brain to look through them…but this is in Salem in a parking lot so never did I expect this. As I started looking, the 3rd bird I looked at and one closest to me among a much larger group, caught my attention…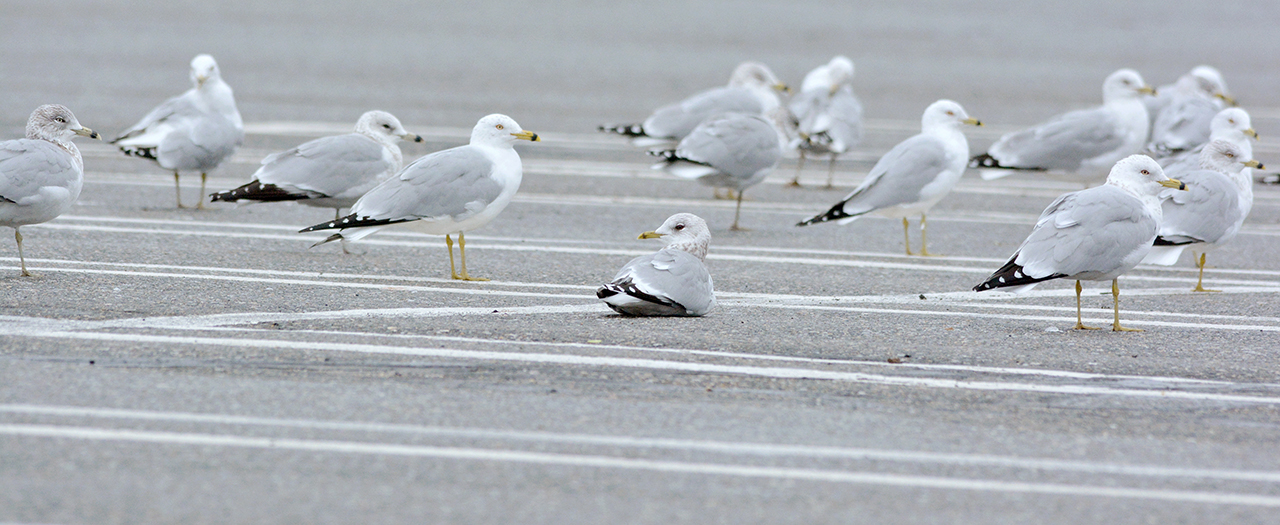 It is a difficult ID, but I felt relatively confident that this truly was a Mew Gull. I texted photos to local experts and all came back with Mew Gull as a conclusion. Sweet! It was another awesome bird for my 'drive into work' list. This bird marks the 2nd State Record for Mew Gull in New Hampshire – the other being a young bird that was seen around the Exeter area back in 2010.
You can see in the group photo some of the subtle differences between Ring-billed and Mew Gulls. For example: the eye is dark, the bill is thinner and more pointed at the tip. The tertials show more white than a Ring-billed shows and overall shows smaller body proportions. Another key mark are the wingtips in the open-wing shot — the P9 feather shows a large white window which is consistent with Mew.
Unfortunately this bird has not been seen since the initial sighting on March 1 despite many observers looking, including myself nearly every morning and afternoon throughout March.